Komen Commemorates Launch of "Parceiros do Peito" Campaign in Piracicaba, Brazil
Post by Tauane Araujo Cruz – Regional Manager, Latin America – Global Strategy & Programs
Susan G. Komen has been supporting education programs focused on early detection of breast cancer in Brazil since 2007. In the last 3 years, as a result of a partnership with the Caterpillar Foundation, we have been able to expand our mission to include programs aimed at removing barriers to care for women in need as well as breast health education for health professionals.
On the evening of Monday, August 4, 2014, my colleague, Blanca Benaglio, and I travelled to the city of Piracicaba in Sao Paulo to celebrate the launch of a public awareness campaign led by well-respected local NGO Associacao Ilumina, and supported by Komen. The event was held at the auditorium of the Methodist University of Piracicaba, and was attended by approximately 350 people including the local community, health care providers, government officials and partners of Associacao Ilumina who are committed to increasing awareness in Piracicaba. Komen was invited to give a presentation on our global work – taking place in more than 30 countries – and our partnership with the Caterpillar Foundation which enables Komen to reach women throughout Latin America, including Brazil, Mexico and Panama.
Through Komen's funding in Brazil, Associacao Ilumina will conduct a unique campaign directed at men.  The campaign is entitled "Parceiros do Peito,"and will emphasize the concept of the male as an essential figure in the household. Men will be encouraged to actively discuss breast health and screening with the women they love. Along with the campaign title which stands for "Breast Partners" in English, is the slogan "Quem Ama Cuida!" indicating that if you love someone, you should take care of them.
To complement the campaign, Associacao Ilumina is seeking financial support from the local community to offer mammograms free of charge for those in need. An event hosted by Ilumina on August 5th allowed them to raise funds for 1,000 mammograms, and the organization plans to continue these efforts with the goal of providing 3,000 mammograms to women who may otherwise go unscreened.
As part of the launch activities, I also participated in an interview with local news outlet, UNIMEP TV, and was pleased to recognize the work of this outstanding partner.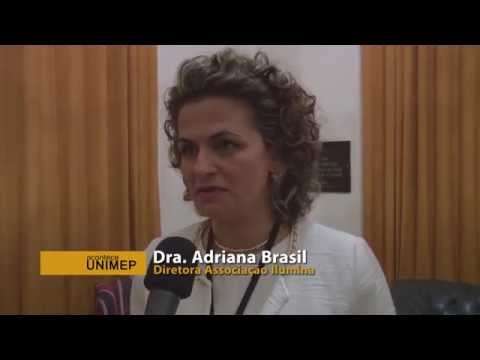 We hope that through Associacao Ilumina's success, the campaign model can be replicated in other areas of Brazil and across the globe.
About the author
Susan G. Komen has written 342 articles for Susan G. Komen® | Blog
Nancy G. Brinker promised her dying sister, Susan G. Komen, she would do everything in her power to end breast cancer forever. In 1982, that promise became Susan G. Komen and launched the global breast cancer movement. Today, Komen is the world's largest grassroots network of breast cancer survivors and activists fighting to save lives, empower people, ensure quality care for all and energize science to find the cures. Thanks to events like the Komen Race for the Cure®, we have invested more than $1.9 billion to fulfill our promise, becoming the largest source of nonprofit funds dedicated to the fight against breast cancer in the world.