International Race for the Cure Recap: Greece and Belgium
In 2008, we were very proud to have expanded the Susan G. Komen Race for the Cure® series beyond its domestic Komen Affiliate network by establishing successful partnerships with leading nonprofit organizations from around the world. The International Race series has changed the way communities around the world view and react to the words "breast cancer" and how breast cancer survivors are regarded in their respective countries.
While each International Race is unique, they all have the common goal of increasing breast cancer awareness, providing a sense of hope and community to those who have suffered from the disease and educating the public and local governments about breast health. Race events create a positive environment in which breast cancer is put in the public eye. Despite local taboos, we have seen the power of women around the world breaking the silence about breast cancer. On Race day, brave survivors acknowledge their disease and continue to dispel myths about breast cancer, serving as ambassadors for the cause. As a result, other survivors feel hopeful and women are empowered to take control of their health.
But the impact of our International Race series doesn't stop on Race day. Thanks to these events, local survivor support groups have been established, access to screening, diagnosis and treatment has been increased, breast cancer awareness programs for key target groups have been created, and patient support programs continue to grow.
Over the past month, Race events took place in Belgium, Greece, Germany, Italy, Puerto Rico, Bosnia & Herzegovina, the Republic of Georgia and Tanzania. In this four-part series, we recap these international events while providing information about their local mission work.
We begin with recaps from Athens, Greece and Antwerp, Belgium.
In Greece, we've been partnering with Alma Zois for the past 5 years to organize the Greece Race for the Cure. On September 29, 2013, a record number of 15,000 people gathered at the gorgeous Zappeion Hall in Athens to celebrate 700 breast cancer survivors and raise awareness about the disease. Funds raised at this event are reinvested in the local community by supporting:
-          A hotline for breast cancer patients and their family members,
-          Group psychotherapy programs for breast cancer survivors in Athens, Patras and Thessaloniki
-          Genetic counseling and testing for breast cancer survivors
-          Workplace awareness and advocacy programs.
Check out the video below, additional media coverage and pictures from the event.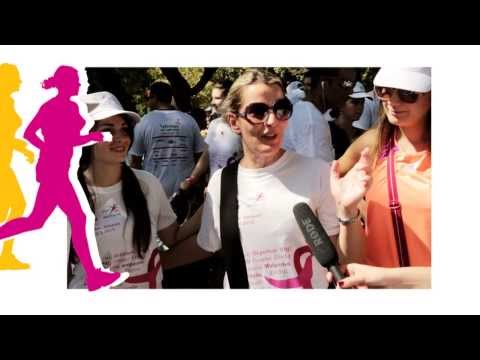 Just like Alma Zois in Greece, our partner organization Think-Pink hosted our 5th Race for the Cure in Antwerp, Belgium on September 29, 2013.
It was a beautiful day with a record-breaking total of 5,649 registered participants – 721 of which proudly wore their pink survivor shirts. In a country where it is common to hide your illness, this has been a major breakthrough. Juergen Vanpraet with Think-Pink estimates that there were about 200 other survivors at the event who did not yet feel ready to take that step. We hope to empower them to share their story and help others to do the same in the years to come.  The event included a post-Race brunch for survivors and their families and 54 people donated their hair to help make low-cost wigs available to underserved women going through breast cancer treatment. Check out the pictures.
The Antwerp Race impacts its community post-Race by granting funds raised to support three regional mission programs:
-          Mammography screening for immigrant women who do not have access to national health care
-          Survivor support program at the local hospital targeting newly diagnosed women
-          Transformation of the local hospital's breast cancer area into a more relaxing, positive and less medical environment
Be sure to check out our next post in our International Race series, recapping our events in Italy and Germany.
About the author
Susan G. Komen has written 342 articles for Susan G. Komen® | Blog
Nancy G. Brinker promised her dying sister, Susan G. Komen, she would do everything in her power to end breast cancer forever. In 1982, that promise became Susan G. Komen and launched the global breast cancer movement. Today, Komen is the world's largest grassroots network of breast cancer survivors and activists fighting to save lives, empower people, ensure quality care for all and energize science to find the cures. Thanks to events like the Komen Race for the Cure®, we have invested more than $1.9 billion to fulfill our promise, becoming the largest source of nonprofit funds dedicated to the fight against breast cancer in the world.