The First Race in Cologne, Germany to the Last Tortoise in St. Louis
Despite the dreary weather, nearly 1,600 participants and 200 breast cancer survivors gathered in high spirits for the first Race for the Cure in Cologne, Germany on June 16. Local survivor Bianca Knop shared that immediately after her diagnosis at the age of 38, she received Komen Deutschland's "Pink Infobag" with information about Komen's work and invaluable information about breast cancer. She shared that the support she received and the Affiliate's wonderful work made her proud to join the walk. Komen volunteer and Race Committee member Dirk Kleimann shared the story of his wife, who tragically lost her battle to breast cancer after receiving a late breast cancer diagnosis. He proudly presented Komen Deutschland with a check for 2,660 Euros at the Race, and continues to work to educate women and men about breast cancer.
More than 50,000 people came together this past weekend for the Komen St. Louis Race for the Cure. So far, the event has raised more than $2.45 million! Participants (and pooches!) were decked out in pink, proudly wearing bandanas, leis and tutus. Even Charlie the tortoise crossed the finish line in style. Check him out in the video below. The weekend included the Race, Dine Out for the Cure and Caliente for the Cure, making it an even more incredible weekend for the Affiliate and local women and men. STLToday (here as well), KSDK and Z6Mag all discuss the wonderful Race day.
Stay tuned! We'll be back in a few weeks to share fun memories from the Brainerd Lakes and Aspen Races. Until then, you can find your local Komen Race for the Cure here.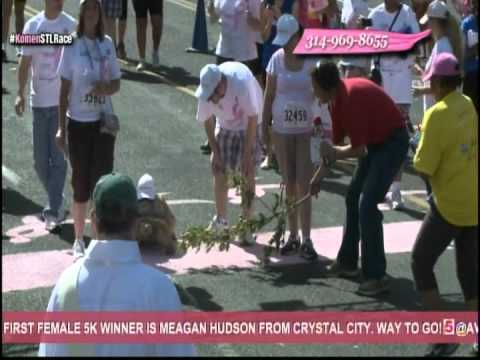 About the author
Susan G. Komen for the Cure has written 182 articles for Susan G. Komen® | Blog
Nancy G. Brinker promised her dying sister, Susan G. Komen, she would do everything in her power to end breast cancer forever. In 1982, that promise became Susan G. Komen for the Cure and launched the global breast cancer movement. Today, Komen for the Cure is the world's largest grassroots network of breast cancer survivors and activists fighting to save lives, empower people, ensure quality care for all and energize science to find the cures. Thanks to events like the Komen Race for the Cure®, we have invested more than $1.9 billion to fulfill our promise, becoming the largest source of nonprofit funds dedicated to the fight against breast cancer in the world.